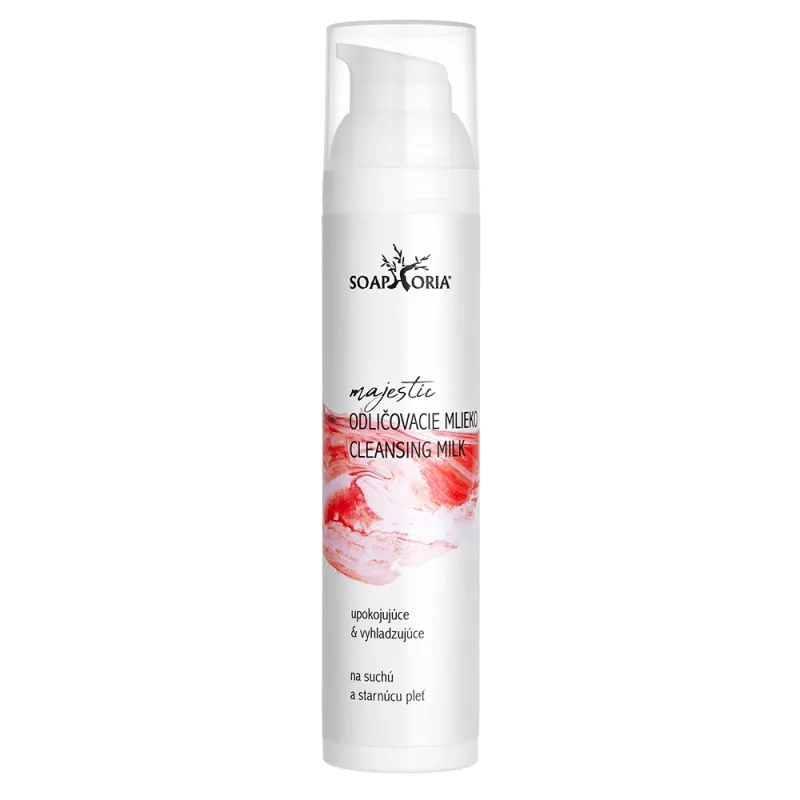 
SOOTHING & SMOOTHING CLEANSING MILK
Nutrishing cleansing milk for the treatment of mature, irritated or reddish skin prone to allergies. It immediatelly soothes, nourishes and creates a smooth calming effect. Life-giving rosehip oil moisturizes, softens and rejuvenates, the extract from Nutmeg helps to regulete the natural production of sebum and the oil from fights against signs of aging and wrinkles, acts   constrictive-like and adjusts skin tone. Ideal for sun-burnt skin.
MAJESTIC ORGANIC CLEANSING LOTION
Cleansing lotion of very light creamy texture is designed for gentle cleansing and refreshing the skin from everyday pollution. Effectively removes make-up, opens and cleanses pores, eliminates unhealthy skin manifestations and fights against its aging. The composition is specifically tailored, i.e. according to skin type for best results possible.
Silicone, artificial colour, oil derivate, parabene, animal ingredient free.  
 APPLICATION
With your fingers, apply a reasonable amount of cleansing lotion on your face and gently massage it into the skin of your face and neck. Let it act for a while and by using a damp cloth or cotton ball eliminate the product. Subsequently, rinse your face with water of appropriate temperature and dry by placing a soft towel onto your face.
Designed for everyday use. For external use only. The dispenser package is used for accurate dosing. Keep out of reach of children. Store in a cool and dry place at a temperature up to + 30oC and do not expose to direct sunlight. Do not use on open wounds. Avoid eye areas. In case of contact with the eyes, rinse with lukewarm water for at least 15 minutes without interruption from the inner corner to the outer one (if wearing contact lenses, remove them in advance). Seek medical attention if irritation develops.
Before the first use, it is recommended to perform the so-called Patch test, that is, apply and test the cosmetic product for its compatibility on a small area of skin, preferably on the wrist and wait 24 hours. This method can prevent the onset of allergic reactions and hypersensitivity to the product. If an allergic reaction occurs after application, wash the skin surface with lukewarm water. Stop using the product immediately. If the allergic reaction persists for a long time, seek medical attention.
TIPS AND TRICS
Royal organic cleansing lotion perfectly combines with products presented within the array of skin treatment.
Ingredients: Rosa Damascena Flower Water , Hammamelis Virginiana Extract *, Caprylic/Capric Triglyceride , Glyceryl Stearate , Glycerine , Cetyl Alcohol , Stearic acid , Hydrogenated Castor Oil , Rosa Canina Seed Oil *, Pelargonium Roseum Flower Oil *, Rosa Damascena Flower Oil *, Tocopheryl Acetate , Ethylhexylglycerin , Citral***, Eugenol***, Geraniol***, Farnesol***, Linalool***, Citronellol***, Limonene***
* certified organic ingredient

*** occurring naturally in essential oils and natural fragrances
Contains 93.9% of ingredients in organic quality.
Size: 100ml
Data sheet
Content

100 ml
3 other products in the same category:
  REFRESHING & RESTRUCTURING CLEANSING MILK Cleansing milk with a characteristic herbal fragrance deep-cleans pores of mixed and oily skin....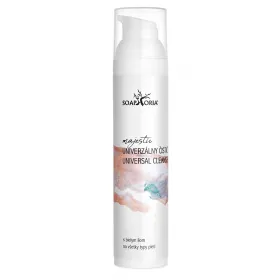 UNIVERSAL CLAY CLEANSER FOR ALL SKIN TYPES Hypoallergenic cream cleanser based on kaolin is suitable for all skin types. It perfectly absorbs...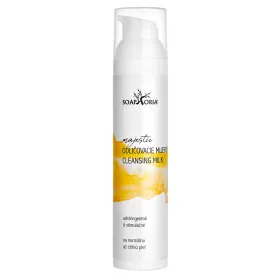 ADSTRINGENT & STIMULATING CLEANSING MILK Encouraging and stimulating cleaner of creamy and milky consistency gently cleanses and refreshes...