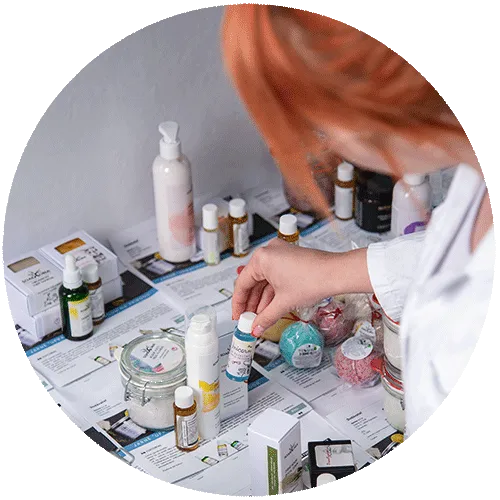 "I received the first Soaphoria product as a gift. It was an oil perfume called Happiness. Love at first sight. When I ran out, according to the label, I looked for a store and ordered a supply of Happiness, not only perfumes but also deodorant. Today I have more, I also ordered samples of some products that interested me. They are amazing. Everything smells wonderfully unobtrusive and I really appreciate the ecological packaging.
I also have very sensitive skin and react allergically to some new produts. I've tried many, from natural to expensive "branded" ones... I have no negative reactions to Soaphoria products. That makes me really happy. The prices are more than friendly. :)"
– Pavla 
"Healthy cosmetics from the east of Slovakia in ecological packaging that can be returned. My dream has come true :)"
– Zuzana 
"I really like to order from this store, the products are of high quality and fragrant. Maximum satisfaction." - Jana 
"I love the body products from this store. They are fragrant, herbal, Slovak, organic, in reusable containers... Well, just great. I could write here a bunch of superlatives until the evening. You just have to try it :)" – Michaela 
"I have been ordering household products together with cosmetics for a long time, the selection, quality and composition of the products are proven and excellent. The price/performance ratio is unbeatable." – Evka 
"Very nice products. The candles smell beautifully and are made of waxes that do not harm health. A big plus is that the products are made in Slovakia." – Zuzana
 "Wonderful approach to the customer, the best quality products for my skin and body. I have been loyal to them for several years." – Majka 
"I am very satisfied with the products, as I have problematic skin, they willingly explained and advised me over the phone... I will definitely continue to buy these quality products." - Lenka 
"I am very happy to have discovered this brand. Even my sensitive skin is excited ;-) People around me also liked it. And the wonderful smell! I also like the company's policy and idea, environmental friendliness, recycling. If you follow the site or social networks, you can participate in competitions, get various discount codes, or a gift for shopping. If you haven't tried it yet, I recommend it." – Mima
"Excellent natural cosmetics that I return to regularly." - Jaja
"I love your natural products. They smell beautifully and I don't have to worry about unnecessary chemicals :)" – Lila
"Excellent communication, helpfulness, I needed the goods faster and they were delivered to me the very next day. Everything is beautifully packaged, fragrant, a joy to shop. Top!" – Majka
"Quality products, if you try once, you won't want another, TOP for me. The smell of the products is pleasant and gentle and, above all, not strong and aggressive like other brands, I fell in love :)" – Alena
"Amazing handmade work, they separate, they don't test on animals, really wonderful fragrants and excellent quality... Whatever I ordered, I was never disappointed, always pleased... I warmly recommend you and wish you all the best <3" - Monika
"Fragrant products, I am very happy with them ☺️. I don't plan to buy regular cosmetics from the drugstore anymore. And the laundry is beautifully soft after your fabric softener. I'm glad I discovered you." - Dominika
"I have liked you very much since the beginning. :) You really fit my taste, in terms of scents, but also quality... You care about everything and it can be seen in the products as well. Beautiful scents, clean and high quality, beautifully packaged and fresh... :) I will always be satisfied here, and so will my skin and body. Thank you :)" – Veronika
"Maximum satisfaction. I'm always looking forward to the products... The products are very high quality, fragrant, and I think we'll only be buying SOAPHORIA. Everyone who buys a product from SOAPHORIE will never try another one. TOP quality for me." – Alena
"Natural products that are friendly to people and nature, they smell wonderful. Always a very friendly attitude of the staff, the order is always completed quickly." - Dzija 
"Soaphoria is an excellent cosmetics. The descriptions of the products correspond absolutely, they don't just write some empty words there. So far I haven't had a single product that harmed me or didn't work. I've been buying Soaphoria for years, and the more I go on, the more I expand my beauty cabinet with their products." - Michaela 
"I have been using Soaphoria natural cosmetics for almost a year now and I am very satisfied. I buy toothpaste for everyone's birthday and they all stick with it. The price corresponds to the quality of the products. For me, one of the best natural cosmetics. THANK YOU!" – Maria 
"I was buying a present for my wife for her birthday, I was choosing at the last minute, so I put my trust in the products of this company and they did not disappoint me, even my wife was pleasantly surprised." - Norbis 
"I am very satisfied with this cosmetics. It smells beautiful. And what I appreciate most is its quality. Natural products, no chemicals. And at the same time, I support the Slovak market. I definitely recommend everyone to try this cosmetic. It is a Slovak company. They list only natural ingredients in the composition. And they wrap the goods in paper, which saves nature." – Veronika 
"I recommend their soaps, peelings, and face masks for problematic skin, they helped me incredibly. I am satisfied and grateful." – Beata 
"Soaphoria is clearly the best cosmetics company in Slovakia. Their products are unique, natural, fragrant, beautiful and high quality! Every single package that comes from them makes me smile immensely, I can feel that everything is done with love and with a beautiful intention towards us, the customers and also our beautiful planet. I am a long-term customer and I am always pleasantly surprised by every new product and their overall direction. Thank you that such companies exist in Slovakia, I keep my fingers crossed for you in everything. Shower gels and candles are a complete miracle! :)" – Viktoria 
"I have been ordering from Soaphoria for about 2 years, the products are excellent, the delivery of the goods is really fast, the communication with the customer is flawless, and any complaints about the goods (which actually happened to me only once and it was not their fault) are dealt with quickly and to the satisfaction of the customer. One of the stores that I really have nothing to complain about, they do a great job!" – Martina 
"Soaphoria products are great, feel good on the skin and smell great. Returnable packaging is very ecological. Either you return them to the store and get a discount, or you can use them for something else in the home." – Niki 
"Soaphoria surprised me so pleasantly that I was delighted. On the one hand, quality, scents, compositions that I have not seen anywhere else, but also the rhetoric of the store. They have incredible charm... I applaud them and I hope this will be a life-lasting relationship." – Katka