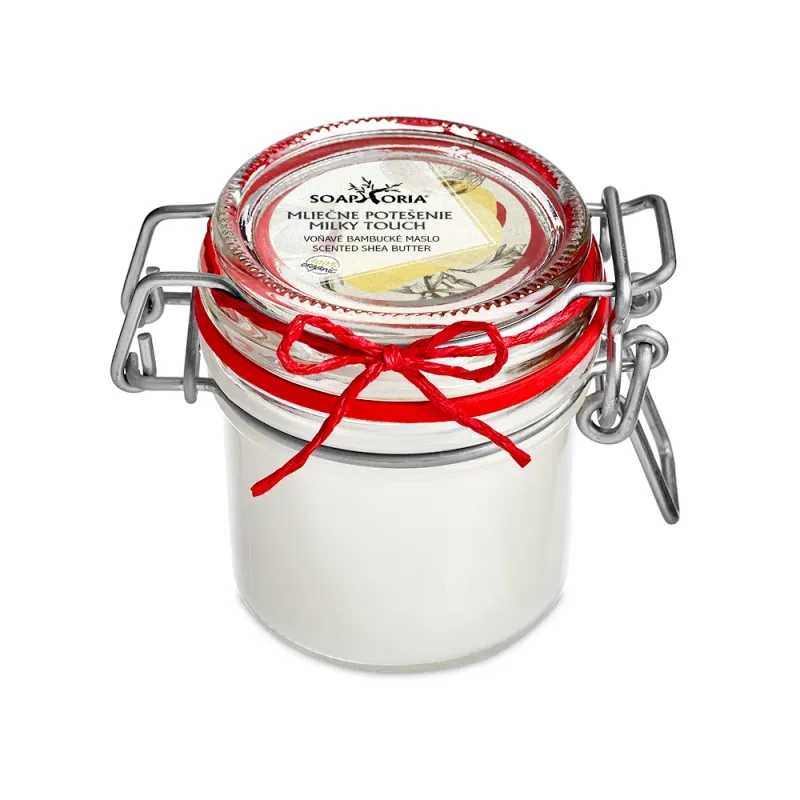 
Milky Touch - Scented Organic Shea Butter
MILKY TOUCH

Feel beautiful and confident with a velvety soft skin! Active ingredients in the form of maintenance Coconut Oil, milk protein and vanilla extract provide the skin with necessary vitamins, soften and regenerate it. Proteins help to moisturize the skin and contribute to their elasticity. Vanilla adds not only a sensual scent but is also an effective aphrodisiac and you will appreciate its soothing effect as well. Tense nerves, stress, anxiety, nervousness and fear will disappear!

The product line Milky touch is excellent for all types of skin, especially for extra-dry and dehydrated skin.
ORGANIC SHEA BUTTER
Excellent replacement of facial and body oil or cream, ideal for dry or sensitive skin and full body massage! Especially good for sensitive skin suffering from various problems, such as psoriasis and stretch marks! Thanks to its composition and economical processing, the shea butter preserves a high portion of vitamins (A, E and F), natural waxes, rare plant sterols, carotenes, phenols and health promoting fatty acids. Its composition is similar to the human skin´s protective film. No clogged pores! The butter has mild anti-bacterial and anti-inflammatory effect,  ideal for acne skin. Use for wounds, burns, insect bites or to lighten scars and prevent the occurrence of stretch marks.
APPLICATION
Body and face: Apply oil on dry or wet skin after bath. Hydrates the skin deeply and gives it amazing scent.
Hair: Apply the oil as a mask before washing the hair for perfect nutrition of the scalp and dry, frizzy hair tips.
Designed for everyday use. Keep out of reach of children. Store in a cool and dry place, at a temperature up to + 25 ° C and do not expose to direct sunlight and frost. The texture of the product does not have to be uniform, it may contain small lumps, which arise due to external influences (temperature fluctuations), but these irregularities are only an aesthetic defect and will melt on contact with the skin. Do not use on open wounds. In case of contact with the eyes, rinse with lukewarm water for at least 15 minutes without interruption from the inner corner to the outer one (if wearing contact lenses, remove them in advance). Seek medical attention if irritation develops.

Before the first use, it is recommended to perform the so-called Patch test, that is, apply and test the cosmetic product for its compatibility on a small area of ​​skin, preferably on the wrist and wait 24 hours. This method can prevent the onset of allergic reactions and hypersensitivity to the product.

People with intolerance or allergy to nuts may in rare cases develop an allergic reaction to the product. If an allergic reaction occurs after application, wash the skin surface with lukewarm water. Stop using the product immediately. If the allergic reaction persists for a long time, seek medical attention.

TIPS AND TRICKS
The most effective skin hydration can be achieved if you use the product immediately after shower/bath on wet skin.
Ingredients: Butyrospermum Parkii Butter *, Cocos Nucifera *, Vanilla Planifolia Fruit Extract *, ***Coumarin, ***Hexyl  Cinnamal, ***Benzyl Alcohol, ***Anise Alcohol

* certified organic ingredient
*** occurring naturally in essential oils and natural fragrances
100% organic product
Country of Origin: Burkina Faso
Size: 125ml