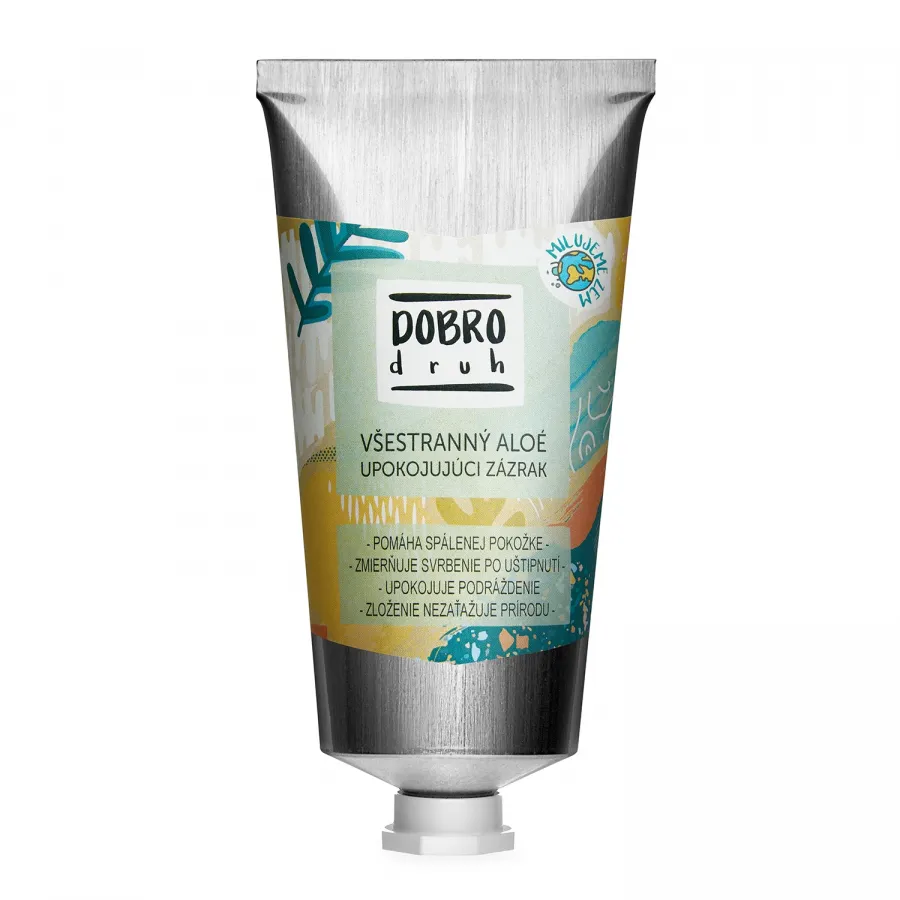 
DOBROdruh

Experience the best adventures without worrying about unnecessary chemicals or nature pollution! Enjoy your free time with complete care for your body, skin or hair, including gadgets that you must not miss on any walk, trip, tent or crazy journey for adventure. DOBROdruh will take care of the whole family and become your best companion, wherever you go!
UNIVERSAL ALOE VERA CALMING MIRACLE

Get rid of unpleasant itching after an insect bite or sprains, irritation or sunburn and small wounds. Soothing aloe vera gel gently treats any problem, helps speed up the healing of cuts and wounds and cools you down even after a demanding hike on hot summer days.

Suitable for the whole family.

Free of sulfates, silicones, petroleum derivatives, animal fats, parabens and preservatives, synthetic dyes and perfumes.
APPLICATION
Apply the appropriate amount of the product in a circular motion to the skin or locally and allow it to be absorbed.

Designed for everyday use. Keep out of reach of children. Store in a cool and dry place, at a temperature up to + 30 ° C and do not expose to direct sunlight and frost. Do not use on open wounds. In case of contact with the eyes, rinse with lukewarm water for at least 15 minutes without interruption from the inner corner to the outer one (if wearing contact lenses, remove them in advance). Seek medical attention if irritation develops.

Before the first use, it is recommended to perform the so-called Patch test, that is, apply and test the cosmetic product for its compatibility on a small area of ​​skin, preferably on the wrist and wait 24 hours. This method can prevent the onset of allergic reactions and hypersensitivity to the product. If an allergic reaction occurs after application, wash the skin surface with lukewarm water. Stop using the product immediately. If the allergic reaction persists for a long time, seek medical attention.
Ingredients: Aloe Barbadensis Leaf Juice*, Glycerin, Xanthan Gum, Aloe Barbadensis Leaf Powder*, Fucus Vesiculosus Extract, Sodium Benzoate, Potassium Sorbate 
*certified organic ingredient



Size: 75ml