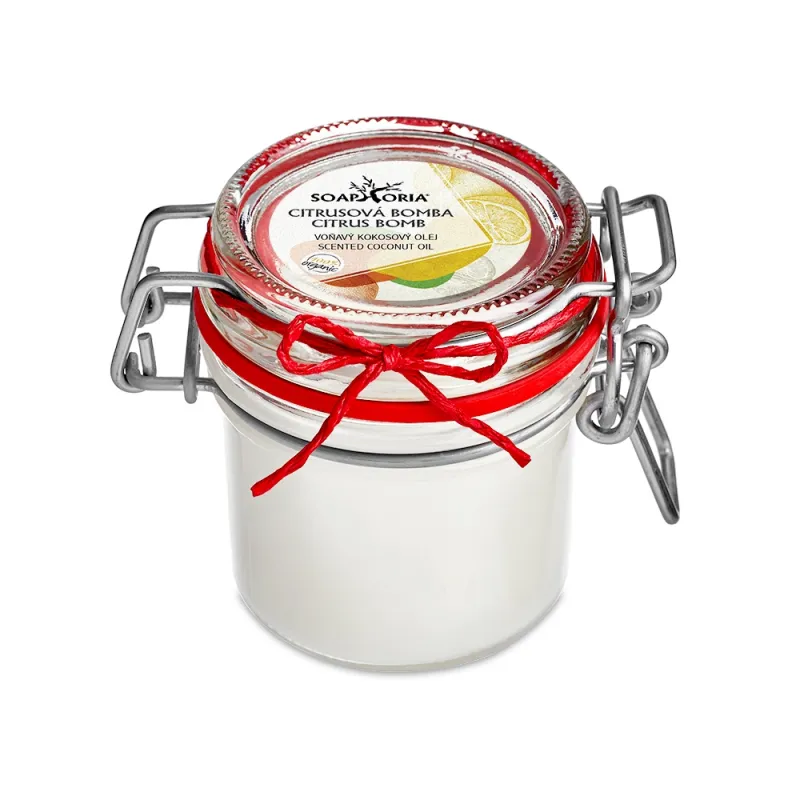 
Citrus Bomb - Scented Organic Coconut Oil
CITRUS BOMB

The right, genuine refreshment and uplift of the spirit, thanks to essential oils of citrus fruits! The unique combination of juicy orange, mandarin, lemon and pink grapefruit guarantee to get rid of stress and give some positive energy for the day.

The product line Citrus bomb is excellent for all types of skin.
SCENTED ORGANIC COCONUT OIL

An excellent replacement of facial and body oils/creams, suitable for dry skin and full body massage! High content of antioxidants in the form of vitamin A, C and E prevent skin aging. Copes with cracked skin on the elbows, knees and heels, is effective against stretch marks and helps in the treatment of eczema. It is highly effective in the healing and removing of aesthetic defects such as liver spots, wrinkles or scars. Treats nails and skin irritation caused by shaving! Nourishes dry hair and returns its flexibility and shine! Thanks to its fineness, it is suitable for sensitive skin. Also ideal as a make-up removal!
APPLICATION
Body and face: Apply oil on dry or wet skin after bath. Hydrates the skin without greasy feeling and gives it amazing scent.
Hair: Apply the oil as a mask before washing the hair for perfect nutrition of the scalp and dry, frizzy hair tips. To ease combing you can also use a few drops of oil after washing.
Designed for everyday use. Keep out of reach of children. Store in a cool and dry place, at a temperature up to + 30 ° C and do not expose to direct sunlight and frost. Do not use on open wounds. In case of contact with the eyes, rinse with lukewarm water for at least 15 minutes without interruption from the inner corner to the outer one (if wearing contact lenses, remove them in advance). Seek medical attention if irritation develops.

Before the first use, it is recommended to perform the so-called Patch test, that is, apply and test the cosmetic product for its compatibility on a small area of ​​skin, preferably on the wrist and wait 24 hours. This method can prevent the onset of allergic reactions and hypersensitivity to the product. If an allergic reaction occurs after application, wash the skin surface with lukewarm water. Stop using the product immediately. If the allergic reaction persists for a long time, seek medical attention.
TIPS AND TRICKS

The most effective skin hydration can be achieved if applied immediately after shower/bath onto wet skin.
Ingredients: Cocos Nucifera Oil*, Citrus Limon Fruit Extract*, Citrus Reticulata Fruit Extract*, Citrus Sinensis Peel Extract*, Citrus Grandis Fruit Extract*
*certified organic compound  
100% organic product
Origin: Philippinies
Size: 125ml